Ahmed Deif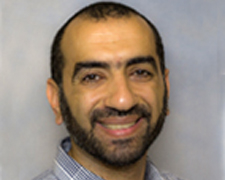 Before joining Cal Poly, Dr. Deif was an assistant professor and the program director of the industrial and service engineering department at Nile University in Egypt from 2010-2013. Dr. Deif was also an assistant professor at the industrial systems engineering dept., at University of Regina in Canada from 2008-2010 where he still serves as an adjunct professor. He is also currently an adjunct associate professor at the Industrial & Manufacturing Systems Engineering at the University of Windsor in Canada where he served as a visiting scholar from 2013-2014.
His current research interests are in optimal manufacturing and service planning and control, supply chain management, lean and green manufacturing/service systems and dynamic analysis of manufacturing systems. In addition, Dr. Deif conducts funded research on the impact of "lean gamification" in STEM education. He has 50 publications in books, international journals and refereed conferences some of which have won best paper awards.
Dr. Deif has a diverse portfolio in his industrial experience ranging from automotive industry where he worked at the R&D center at Chrysler Canada to steel industry to electronic industry and finally assembly industry at various engineering and consultancy capacities. As a lean and six sigma certified expert, Dr. Deif helped various industries in improving their production performance and conducted various lean and six sigma trainings in US, Canada and Egypt over the last 15 years. He also served as a consultant for the government in different vocational training and education task forces.
Dr. Deif is a senior member of SME and member of IIE, APICS, ATMAE and IEOM organizations. He served on the scientific committee of several international conferences as well as a reviewer for many international manufacturing journals including Journal of Manufacturing systems, Intl. Journal of Production Research and Journal of Advanced Manufacturing Technology.
Dr. Deif received his MS and PhD in Industrial & Manufacturing Systems Engineering from the University of Windsor, ON, Canada. He earned his BS in Mechanical Engineering from the American University in Cairo, Egypt. He recently joined the central coast lean (CCL) center at Orfalea College of Business where he shares in various training and consulting initiatives.
Education
• BS Mechanical Engineering (1999)
American University in Cairo, Egypt
• M.A.Sc. Industrial & Manufacturing Systems Engineering (2003)
University of Windsor, ON, Canada
• PhD. Industrial & Manufacturing Systems Engineering (2006)
University of Windsor, ON, Canada
Experience
• Assistant/Adjunct Professor:
-University of Windsor, Canada
-Nile University, Egypt
-University of Regina, Canada
• Lean Six Sigma Consultant:
-Automotive industry
-Steel Industry
-Electronic industry
-Health sector
• Industrial Senior Engineer:
-Chrysler Canada (R&D)
-BEI Electronics
• Government consultant for technical vocational and educational training.
• Central Coast Lean
Orfalea College of Business, Cal Poly
• Research
– Optimal manufacturing/service systems
– Lean Six sigma modelling and analysis
– Innovation based incubators
– Assessment of "lean gamification" on STEM education
Contact Info

Office 03-344
Phone 805-756-1213