Jason Lepore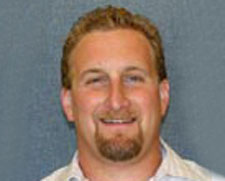 Dr. Lepore is a theoretical economist with research interests in Industrial Organization, Game Theory, Regulation, Agency Theory and Defense Economics. He has published research on topics including firm behavior in dynamic oligopoly with long-run scale decisions, subsidization to tip equilibrium, and strategic considerations in military research and development. He research has been published in the International Journal of Industrial Organization, Economic Letters, The B.E. Journal of Theoretical Economics, and Defence and Peace Economics.
Dr. Lepore has taught Introductory Microeconomics, Industrial Organization and Mathematical Economics at Cal Poly. He won the 2011 teaching award for Outstanding Faculty in Economics.
Dr. Lepore joined Economics the faculty at Cal Poly in 2007. He received his Bachelors in Economics from UC Irvine in 2002 and his PhD in Economics from UC Davis in 2007.
Education
• Ph.D: University of California, Davis, 2007.
• MA: University of California, Davis, 2003.
• BA: University of California, Irvine, 2002.
Contact Info
Office 03-343
Phone 805-756-1618
Fax 805-756-1473
jlepore@calpoly.edu
Personal Website