Arjun Reddy Toom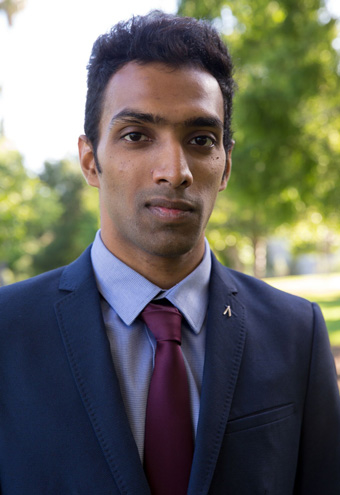 A computer science undergrad from BMS College of Engineering in India, Arjun Reddy Toom was looking for a graduate program that would prepare him for the real world of business. Cal Poly's MS Business Analytics program hit the mark.
It was the program's Learn by Doing approach and unique integration of real-world industry projects into the curriculum that really piqued his interest, something he hadn't found when researching other graduate programs.
"The collaborative industry project curriculum allowed students to share ideas and thoughts in smaller groups and collaborate to crunch data," he says, while also providing the opportunity to "interact with senior business leadership from the best companies and firms in California." "More than anything, Learn by Doing is something that I got to experience at every moment during my course and project work," he says.
Toom also liked the tight-knit cohort structure, where students take all classes together throughout the program. "This definitely enabled student-teacher interaction on a better level. Every faculty member cared a lot about the course outcomes and student progress."
But even with a laser focus on course work, Toom found living in San Luis Obispo a great experience in and of itself. "It's a wonderful student town, offering many different adventures like hiking, kayaking and surfing, a Thursday night Farmer's Market, and so much more."
After graduation, Arjun took a position as a Data Scientist for StoryFit; a company specializing in machine learning and data analysis to predict content marketability in the entertainment industry. He now works as a Data Scientist for T-Mobile in the Seattle, WA area.