MS Business Analytics
About MS Business Analytics
About MS Business Analytics
Data has changed the way businesses make decisions. More than ever organizations need data-savvy leaders with strategies and approaches informed by data. Our MS in Business Analytics is an accelerated, highly selective*, interdisciplinary, and industry-relevant program that teaches both the analytical mindset and the cutting-edge technical skills needed for success in today's data analytics marketplace. Since launching in 2016, it has become established as one of the most innovative academic programs in the Business Analytics field and is led by some of the world's best instructors.
Our 10-month in-person** program offers students an incredible opportunity to advance their professional careers in the fast-growing data analytics field. This comprehensive program encompasses statistics, machine learning, econometrics, marketing analytics, and data management. Students also work collaboratively on real-world industry projects, providing them valuable experience working for a client in a team. Our emphasis on advanced statistical modeling, machine learning, data, communication, and cloud computing means students learn to ask the right questions to create actionable intelligence.
*The MS Business Analytics program is waiving the GRE/GMAT test requirement for all applicants this year. However, we encourage (but do not require) applicants to submit GRE/GMAT scores if their undergraduate degree transcripts do not report grade point average (GPA) on a traditional 4-point scale, or if their GPA is less than 3.0.
**Most classes are offered with a traditional in-person modality with the flexibility to offer a few courses with a hybrid or online modality. Students must maintain residence in the local area during the 10-month program.
The MS in Business Analytics is a STEM-certified program (CIP Code 52.1301). Students in the MS in Business Analytics program can apply for a two-year extension of their Optional Practical Training (OPT) work authorization, granting them a total of three years of work authorization.
Important Dates
Oct 1, 2023

Application Period for Fall 2024 Opens
Key Features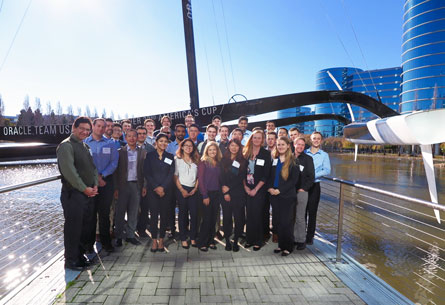 The MS in Business Analytics program is supported by the Business Analytics Advisory Board (BAAB) of top industry executives from companies like Google, Oracle, Tesla and Netflix, who help shape curriculum and assure it is aligned with industry needs, enabling our students to stay at the forefront of marketplace trends.
The BAAB is chaired by Rich Clayton, VP of Business Analytics at Oracle and meets 2-3 times annually to align the MSBA curriculum with industry, including the annual Analytics Forum in April that is sponsored by the MSBA program.
Read more about the Business Analytics Advisory Board.
Read more about recent MSBA student industry solutions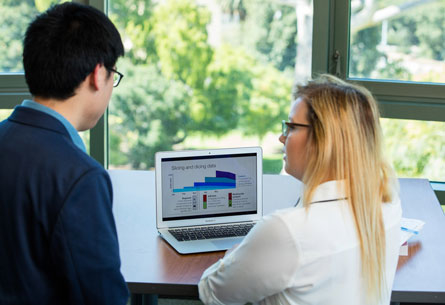 Cal Poly's Business Analytics Agency connects MSBA students to Collaborative Industry Projects as their official graduate degree Culminating Experience. The Business Analytics Agency is managed by a team of instructors from Information Systems, Statistics, and Marketing.  Through a long-standing relationship with the Cal Poly Digital Transformation Hub (DxHub) powered by Amazon Web Services (AWS)*, MSBA students benefit from AWS-certified instruction, access to cloud-based tools and real-world learning experiences. Cal Poly's Business Analytics Agency creates opportunities for students to work across sectors with corporate, public sector and international organizations, such as AT&T, Oracle and the World Bank,  on some of their key challenges, building skills with proprietary datasets, and offering value to these organizations.
 *The Cal Poly DxHub is the first university-based Cloud Innovation Center (CIC) supported by AWS.
Read more about Industry Projects here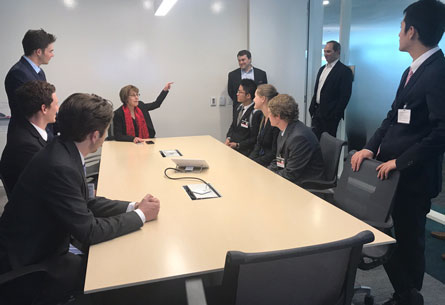 Employers recognize the MSBA as the primary data science degree applied to the business domain, consistently among the top three highest paid professions for those with master's degrees. Cal Poly was recently ranked a Top 10 MSBA program. The Cal Poly MSBA alumni network is well established, as seen in the over 100 alumni in the LinkedIn MSBA alumni network since 2015. This means MSBA students have consistently enjoyed premium job placement at companies like Google, Oracle, Deloitte, Booz Allen Hamilton, PwC, Capital One, T-Mobile, Capgemini, Workday, Neustar, and the NFL.
Read more about our MSBA student's excellent job placement.
Curriculum Overview
From data mining to econometrics, our curriculum embraces the latest approaches and developments in the data analytics field. We also offer a number of cutting-edge elective classes that allow students to explore concepts in more...
View Curriculum
Program Specifics
The MSBA program at Cal Poly is positioned at the crossroads of statistical modeling, big data management, and actionable business insights. We prepare our students to enter the job market with advanced technical skills without losing sight of the business purpose behind the analysis. This purpose is emphasized in our unique...
View Program Specifics
Graduate Program Events
>