Julie Rizzolo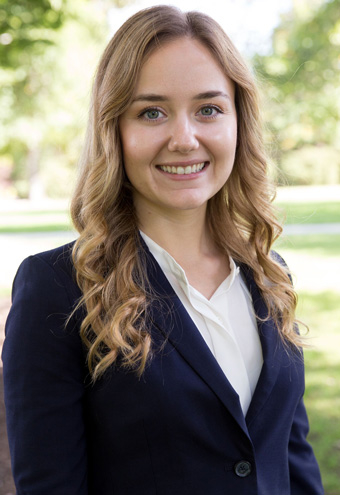 Julie Rizzolo's motivations for applying to Cal Poly's MS Accounting program were twofold. First, she wanted her graduate education to be more than just an extension of the undergraduate accounting degree that she earned at Arizona State University.
Her Cal Poly experience didn't disappoint. The coursework was challenging and lots of hard work, but she also found classes like Professor Westermann's that weren't anything like she'd taken before. "We were able to discuss real issues and form independent opinions about issues that we were sure to encounter in the future."
The program's professional networking, guest speakers and industry connections were also highlights that she believes helped jumpstart her career. "The program broadened my professional network in the best way by adding everyone in my cohort to my future contacts. She adds, "Coming from Arizona, I didn't have many connections in the Bay Area, but now I have a large group of peers that I'll be able to keep in touch while we begin our careers."
And her other motivation for applying to the program? An opportunity to live at the beach. "It doesn't get much better than San Luis Obispo. There's never a shortage of things to do in your free time, particularly outdoors. I fell in love with the town shortly after moving there."
Though she misses SLO and her time at the beach, Rizzolo now works for KPMG in their Deal Advisory Practice in the Silicon Valley.