MBA
About MBA
About MBA
Business is a human enterprise, with success dependent on people being able to collaborate, grow, create, innovate and lead. Our MBA program produces business leaders who are equally adept at navigating the technical and the people aspects of business. In an intellectually stimulating and supportive environment, we foster thoughtful, independent and responsible leaders.
Our MBA program offers students a technically sound business foundation along with experiential learning, helping maximize skill development and individual potential. Employers recognize our graduates for their forward-looking managerial skillset coupled with a 'can do' attitude. The professionalism and situational readiness emphasized in the program paves the way for a seamless transition from the world of Learn by Doing—Cal Poly's signature teaching philosophy—to the world of doing business.
Application /
Important Dates
Feb 1, 2023

Priority Application Deadline for Fall 2023

Apr 1, 2023

Application Deadline for Fall 2023 (International Applicants)

Jun 1, 2023

Application Deadline for Fall 2023 (Domestic Students)
Key Features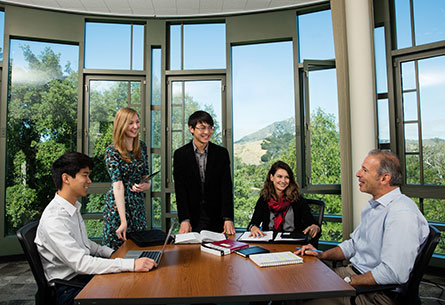 Uniquely Cal Poly
We believe in treating individuals like individuals, and insist on a focused engagement with students, colleagues and faculty, made possible by small class sizes, 3:1 student/faculty ratios, opportunities for interaction, and flexibility to align instruction to student priorities.
Hands-On Field Trips
Regular field trips provide students the opportunity to experience a variety of businesses and business cultures firsthand. Students find these visits immensely informative, eye-opening and often return enthused to consider new and different career paths.
Accelerated Pace
The pace of business is fast, as is our intensive 10-month program option, immersing students quickly into the world of business while delivering core competencies that ultimately lead to great positions in industry, government and non-profits upon graduation.
Curriculum Overview
Wide-ranging courses in the essentials of economics, finance, accounting, marketing, strategy, organizational behavior and operations management form the program's backbone. Electives in areas such as people analytics, negotiations, data management and entrepreneurship support the exploration...
View Curriculum
Program Specifics
Our MBA candidates are selected with care. We look for bright, hard-working, talented and one-of- a- kind individuals. We hold that unique experiences and perspectives enhance the collective intelligence of each cohort. Learn more about the program to see if it sounds like the right fit for you. ...
View Program Specifics
Graduate Program Events
>